Please Follow My Channel, 2021
I don´t have an Instagram and I don´t want to have one. But nowadays it does not work for people who want to try and display their work to not have an Instagram. That is even more true, if the said person is young. Therefore, I felt great pressure on myself, which affected me to such an extent that in January 2021 I decided to put a stop to it. I started a new profile on Instagram as a coping mechanism with the world of social media. It is a food blog that displays the aftermath of every #foodgasm.
The Rough Times Gallery, 2020
The year 2020 was not exactly favourable to exhibitions. I dealt with the situation by creating a performance act that took place first in Pilsen and later also in Prague. Its name was The Rough Times Gallery. I stood in frequented streets with my coat wide opened. Inside the coat sewed in four of my paintings, on which there were depicted figures of naked woman. I tried to depict what the passer-by hoped to see, or was afraid of seeing when a young woman opens her coat in public.
We are here, we are still here, 2020
A group project on which I worked with Kateřina Frgalová, Jakub Černý and Veronika Zpeváková. With this project we entered the Pokoje 2020 exhibition and were awarded a prize from an expert jury. The photographs were exhibited in December 2020 in Hybernská Campus in Prague.
The photographs were accompanied by the following text:
As Gregor Samsa awoke one morning from uneasy dreams he found himself transformed in his bed into a gigantic insect. At least that's how Kafka´s famous piece "The Metamorphosis" begins. We ask, "What are we morphing into now? And how much longer can we be locked up in our homes, surrounded only by our belongings, before we experience something similar like Gregory Samsa did?" These times are undoubtedly changing all of us, and maybe tomorrow we will find out, that we do not see ourselves in the mirror, but only the reflection of our house equipment.
Photos from the opening of the exhibition, 11.12.2020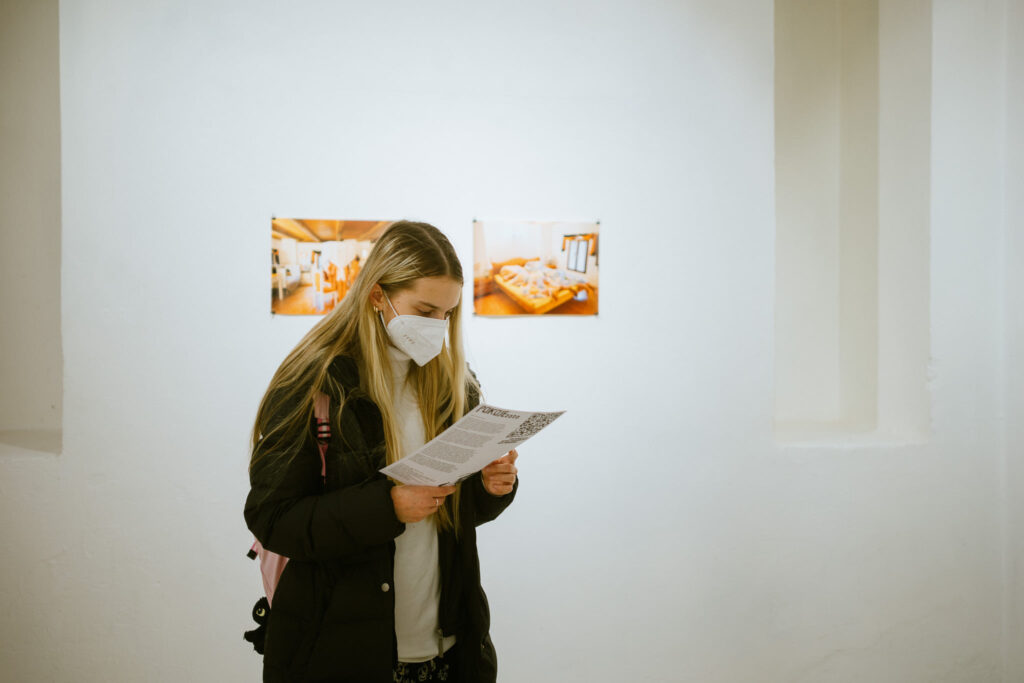 A group project on which I worked with Kateřina Frgalová, Jakub Černý, Veronika Zpeváková and Kristýna Bujárková. With this project we entered the Pokoje 2019 exhibition. The work was exhibited in November 2019 in Desfours Palace in Prague.
It is a video in which Jan Vitvar, head of the cultural section of Respekt magazine, comments on our work. The video comes from the show ArtZone, published on ČT Art (art channel of Czech Television) on 26/11/2019.